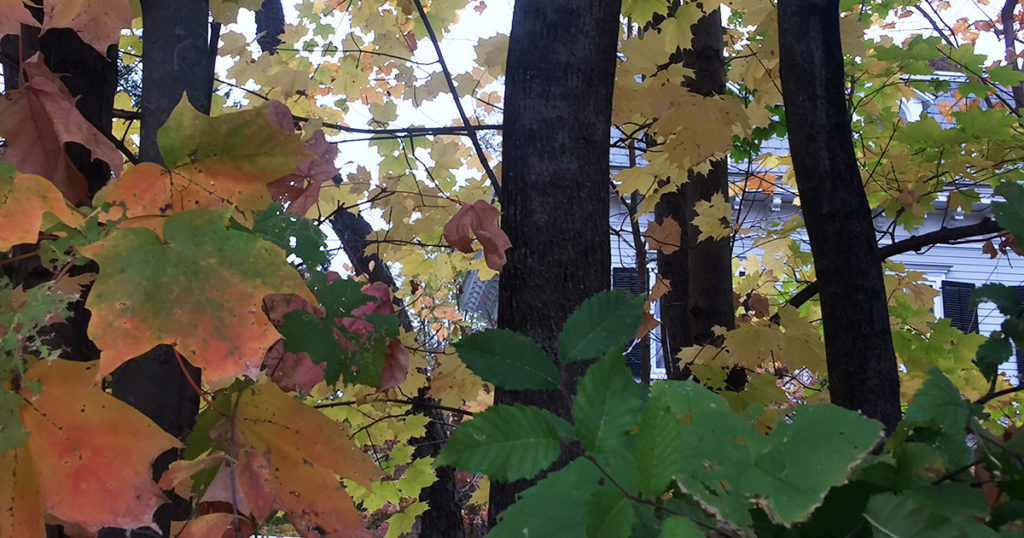 To my surprise, we are quickly approaching the end-of-year Holiday Season. The unexpected warm Fall in the Northeast has set me off- balance a little and the holiday season is coming up quicker than I expected.
Just around the corner is my favorite holiday, Thanksgiving (there may be a tie with Halloween). This year we are double-celebrating with dear friends and having a post Thanksgiving Friendsgiving with a larger circle of friends. When I ask myself what I am thankful for in this moment, an image bubbles up for me.
In the early Fall, we dropped off our son for his first year of Architecture School at Cornell University and the following week my husband had a complicated knee replacement surgery. At the hospital for days, I needed to seek refuge in the chaos of New York City and his hospital room. I went for walks and tried to find a quiet nook, but was disappointed. As I entered the hospital entrance on my third day, I saw a small sign pointing to a non-denominational chapel. I must have passed it twenty times, but on this day, I saw it. I made a mental note and continued on to my destination.
The following day when I had a window of time, I wandered into the chapel. It was small, carpeted, warm and cozy, and softly lit. I entered quietly and saw a Muslim woman bowing on her prayer rug to the left, a nurse in a chair meditating in front of me, a Jewish man standing to my right reading from the Torah and a doctor kneeling with his hands over his heart.
The warmth and spirit in the room overwhelmed me and I sat on an empty chair and began my meditation. I felt a deep sense of acceptance and peace among all of us; I was immediately connected to a group of total strangers all seeking solace at the Hospital For Special Surgery in New York City. I also felt grateful that in a time when the people of the world appear to be separating from one another, I felt so integrated with those around me, embracing their differences and their similarities.
I was so grateful for that moment. It made me feel a deep sense of knowing this upcoming cycle was going to be ok. I realized Cornell was going to be a great place for my son and my husband would recover.
I am not completely sure what happened in that chapel and I am ok with not knowing. What's important is my awareness of a beautiful moment of connection with four people I never met before. All of us wanting hope, a moment of silence and a glimpse of ourselves. In connecting with ourselves, we all connected with each other.
I will probably never see any of the four people I sat with on that day, but they will always be with me.
With Gratitude,
XO,
Karon
===========================
Things that inspire me